This is a very common problem. We see and feel that our hair products are not working anymore. One day we realize that our hair product stops giving us the shiny look or feel and your hair starts to look dull and lifeless.
Your curls turn to frizz, the shampoo doesn't clean and the conditioner takes away your natural shine. Your hair feels like straw or may be thinning or breaking. All shampoos and conditioners leave some build up on your hair. They leave residue which can clog your pores and increase dandruff.
Has Your Hair Become Immune to the Products?
The answer is no. If a product isn't giving you the same results it once did, the culprits could be product buildup, hormonal changes, environmental damage and even the weather
There are many reasons why products can seem to stop working, the major reason is product buildup, and improper cleansing. You can have too much of a good thing, especially with products made with chemicals and that are mass produced. Eventually they can leave a substantial build-up on your hair.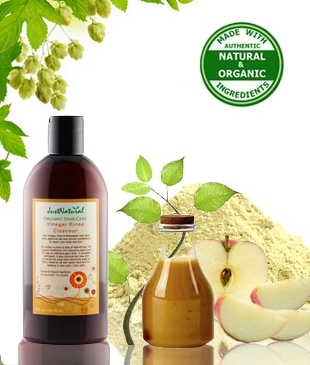 Our Vinegar Rinse Cleanser should be used to remove buildup from hair products.
Products that contain silicones and waxes are especially susceptible to buildup. They create a barrier that can prevent products from doing what they are supposed to do. Products made with minerals oil, silicones, conditioners, relaxers and others can also affect how products work over time. Some minerals oils and chemical ingredients can cause your hair to become brittle, and can cause breakage if they build up. This condition may even lead to hair loss.
Seasonal changes can have a major impact on the effectiveness of products. The weather does have a huge effect on how your hair looks and how products seem to work. Humidity or lack of, can give or take away the results from the best hair products.
Many times, people may not realize that their hair texture has changed over time. It may become coarser, curlier or thinner. Hair tends to change every seven years. You cannot use the same hair treatment, shampoo or products forever. As your hair changes every several years so you should also find new products that work for your hair. In some cases, the length or style of your hair may change over time, requiring different types of products. Normal hair can become greasy hair, or greasy hair into dandruff hair, and then maybe into a hair loss problem.
Is important to stop and determine what type of hair do you have, then make the correct choice before buying the next shampoo or hair conditioner. Just think of how different your hair was compared to when you were a kid. It's natural for your hair to get more or less curly, and more or less coarse, especially with gray hair. Just as your hair changes over time your hair products will have to change as well as the way they use them.
If you've been using the same products for several years, and have noticed a change in how they work, take a break from that product and think about using a clarifying Vinegar Rinse Cleanser to balance again your hairs PH , then your Hair will be prepared to respond to hair treatments again.
Our Natural Hair products will continue to perform over time without any harm to your hair.

Why Some Hair Products Aggravate Your Problems?
This problem has affected many of us. We don't understand why some products that are made to moisturize and hydrate our hair can aggravate our hair problems.
The answer is that your hair cuticle is like a sponge absorbing all treatments, but like a sponge it can be clogged if not properly cleansed and rinsed.
Hair should be rinsed once a month or once a week depending on your needs to help your follicles better absorb moisturizers. You need to remove residue build up that is left on your hair and scalp from shampoo, conditioners or hair treatments.
A Rinse cleanser removes detergent and calcium residue and helps bring the natural pH balance back to normal. A rinse cleanser is used to remove flakes, excess oil, and it helps prevent bacteria growth that can cause itchy scalp, dandruff and hair loss. When was the last time you cleansed your Hair of Residue? Using this type of rinse will improve your hair. Hair will be receptive to cleansing and conditioning. It leaves hair feeling fresh and delightful by eliminating buildup on hair shafts while restoring the proper pH level to the scalp. It can be used after or in place of conditioner.