Many hair care products can cause your follicles to stop growing new hair by leaving a chemical residue that clogs your pores and causing follicle irritation. This can lead to thinning, hair loss and scalp problems.
Our natural grow new hair products are made with ingredients that won't clog your scalp or follicles. They help to dissolve harmful residue to encourage healthy growth.
Formulated with vital natural nutrients that promote healthy thicker hair growth, our vitamin rich hair loss products feed your scalp and hair roots directly to prevent hair loss.
Your follicles will absorb this nourishment to produce stronger fuller hair with new growth. Promote growth without chemicals with safe and effective natural products for hair loss.
_____________________________________________________________________________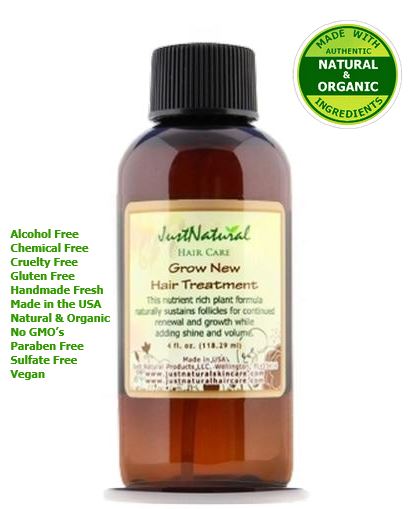 Grow New Hair Treatment
Hair loss does not have to be permanent. Stop your hair loss by stimulating your follicles and start encouraging new healthy growth.

Grow New Hair Shampoo
This Grow New Hair Shampoo for men and women is made with a coconut based cleanser that gently cleanses your hair and scalp helping to remove
excess buildup and other chemical residue without clogging hair follicles.